How do our farmers plant Kampot pepper?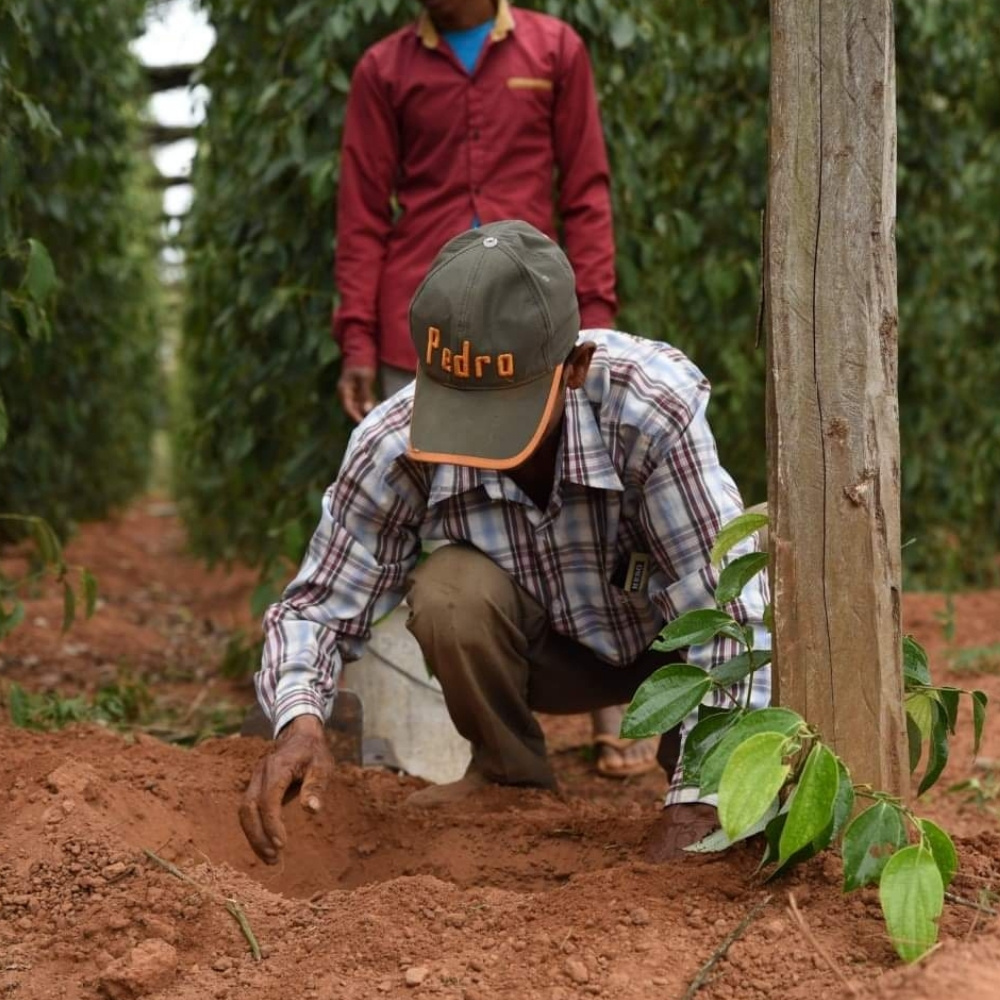 With which tomato can you cultivate a better relationship? The one you find off the shelf of the grocery store or the one you grow yourself in your garden, knowing the origins and appreciating the process from the first planting to the final harvest? We don't have to think hard to know the answer. 
Although you cannot grow our pepper at home in your flowerbed or pot due to unfavorable geological conditions, you can learn about the complete process, from A to Z, about the tradition of growing Kampot pepper in distant Cambodia. Thanks to this, you will love the peppercorns that we bring to your table just like you might with a fresh tomato from the garden. 
The story of this spice begins on the foothills of massive mountains, which offer pepper vines the right sandy or stony soil. Farmers have to drain the soil properly, or plant the vines on the slope so that the water does not collect and drown the roots. A system of drainage, which surrounds the plantations and reaches a depth of at least 80 centimeters, is also used for maintaining the right level of moisture in the soil.
Two types of pepper are grown in Kampot, the so-called Kamchay and Lampong. However, locals refer to them as "plants with small leaves" and "plants with large leaves". Why complicated things with fancy names when there is an easier way? Newly planted vines must come from the area with the geographical indication Kampot.
Pepper vines are planted in carefully selected locations and each plant must be separated by at least 1.8 metres. The plants must be sheltered for at least three years to protect them from the harsh Cambodian sun. Wooden stakes on which the vines are supported and natural, organic fertilisers are used to encourage growth. Forget any chemicals, however. All fertilisers come from natural sources. These are mainly manure from domestic animals. Fertilisation takes place at least once a year, and at most four times a year, between May and July.
In times of drought, it is necessary to get water to the plants. This is one of the reasons why vines must be close to a water source suitable for irrigation. At the same time, in the period from June to December, it is necessary to loosen the soil regularly so that the water does not run down the surface, but rather penetrates as much as possible to the roots. Farmers must also constantly check for the presence of pests. 
If you were thinking about the potato beetle you can forget about it. Termites are the biggest enemy here. Of course, their extermination takes place in a natural way. Chemicals are only allowed when nature does not help. In that case, farmers may only use products approved by the World Health Organization.