Kampot pepper red - gastropack 1000g
Kampot pepper red - gastropack 1000g

Manufacturer: .pepper..field Product code: GASTRO-RED
Has Kampot pepper become your secret culinary weapon and best friend in the kitchen? If you have been consuming a lot of it, then the kilo gastropack is just for you. It will make your pepper reserves almost bottomless, allowing you to take your every dish to a whole new level. The pack is of course especially suitable for gastropub kitchens, which will ensure their pepper supply is well-stocked.
Inside the resealable package, which perfectly preserves all the character of its contents, you will find red peppercorns from Kampot plantations. These are harvested when the fruits are fully ripe, making them full of sweet fructose and intense fruity aromas. After harvesting, the grains are sun-dried, giving the peppercorn's skin its characteristic wrinkled texture.
The peppercorns exported to your table come from small family farms that approach pepper cultivation with integrity and traditional practices that have been used in the area for hundreds of years. We buy pepper from them under the fairest possible conditions. The kernels go through multiple inspections during the export process, ensuring that the most authentic flavour and aroma from Cambodia reach your table.
The taste and aroma in this case are incomparable to the classic pepper available in supermarkets. It is bold, rich, yet delicate and subtle. In addition, Kampot pepper is a unique pepper that you definitely won't find in a conventional store.
Thanks to the high fructose content that gives red pepper its fruity flavour, this spice is the king of cold dishes and vegetable salads. It's great in risottos, soups and don't be afraid to experiment with it in baking or mixing drinks. Combine it with fish or light poultry meat rather than dark meat. Take a look at our blog and be inspired by the recipes with Kampot red pepper that have been compiled for us by Michelin-starred chefs.
100 % organic
Certified pepper sourced directly from our farmers in Cambodia for fair prices.
Manually checked
In the Czech Republic, we check each peppercorn again and pack it in the highest quality packaging.
We aim to do good
Part of our profits go back to Cambodia as we try to help this country in various ways.
Types of Kampot pepper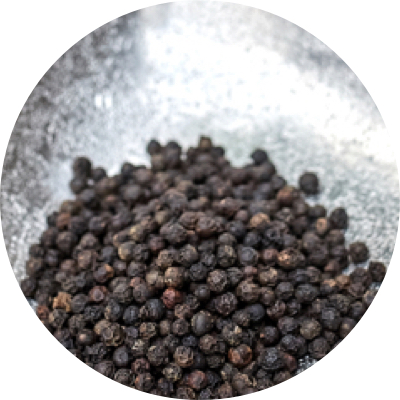 BLACK PEPPER
This is harvested, unripe, at the beginning of the year when the grains are green. Black colouring occurs as the corns dry in the sun.
Show use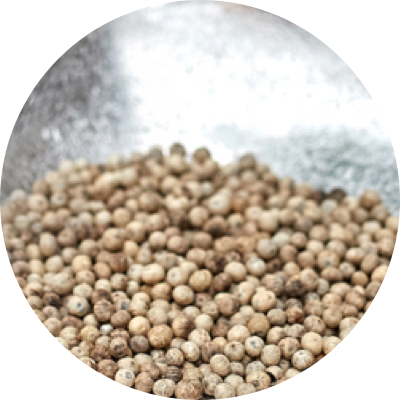 WHITE PEPPER
This is a champagne among peppers which has nothing to do with the white pepper you know. The white pepper you buy in shops here is just peeled unripe black pepper which tend to get musty and thus nobody likes it. The genuine white pepper is peeled from ripe red one (it is its seed) and so it gets its specific qualities for which it´s sought by top chefs all over the world – the white pepper opens up taste buds and multiplies the taste of each ingredient.
Show use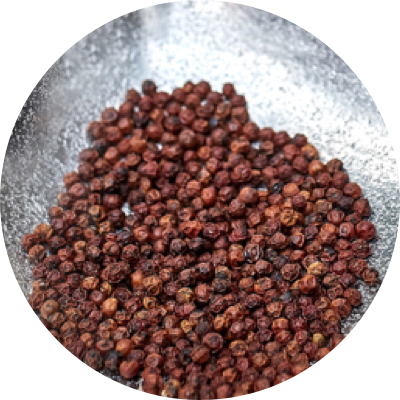 RED PEPPER
Genuine red Kampot pepper is unique in the world. It is extremely rare and grows only in a few places in the world. It is harvested fully ripe at the peak of the pepper season and thanks to its long ripening it is full of fructose, which gives it a unique sweet-fruity taste. The so-called "red pepper" (which is actually pink) we can find in the Czech Republic is not pepper at all and is so incorrectly labeled. It is a Brazilian peppercorn that grows in a tree and is popular for its colour.
Show use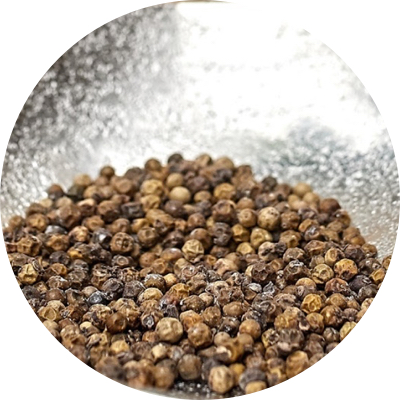 LYOPHILIZED PEPPER
Fresh green Kampot pepper freeze-dried in the Czech Republic! A special process of lyophilization for keeping the maximal quality, freshness and taste accents of genuine fresh Kampot pepper from Cambodia right to your plate. 100% organic fair-trade product collected with love. When mixed with oil or another liquid, the peppercorn absorbs the liquid and then tastes like fresh. Do not put it in grinder, use it whole or crushed in mortar.
Show use
Our farmers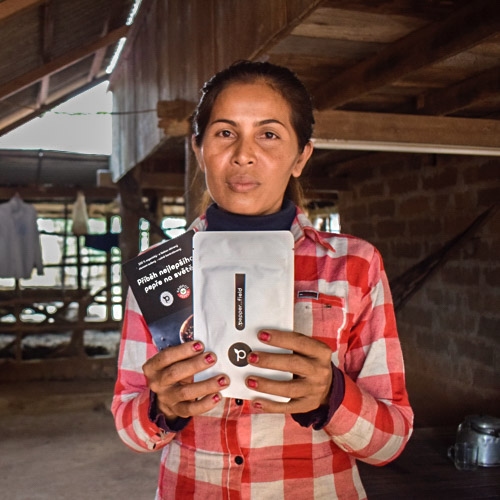 POV SOKHORN
Supplier of
Black pepper
How will the farmer use the money?
To pay school fees for her 2 kids (one of them wants to become a doctor)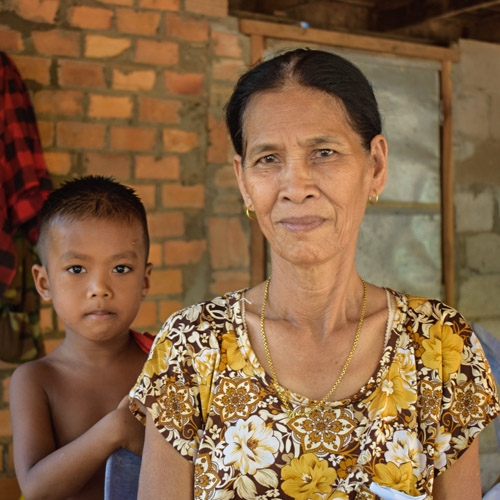 PANN VOCH
Supplier of
Black pepper
How will the farmer use the money?
To pay school fees for her 2 grandchildren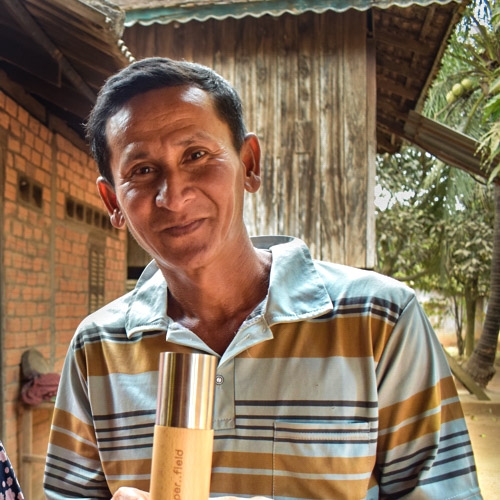 YIM YI
Supplier of
White pepper
How will the farmer use the money?
To reconstruction of his house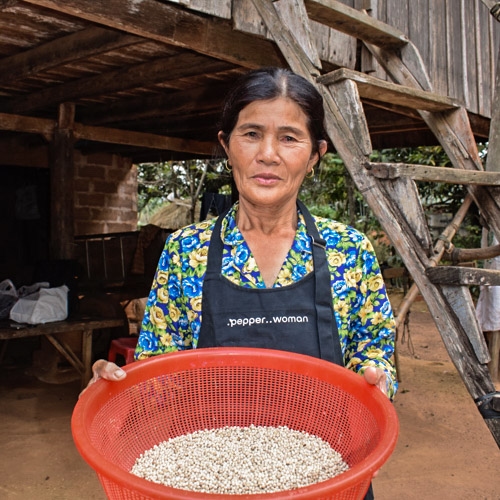 SVAY YUTH
Supplier of
White pepper
How will the farmer use the money?
To travel to another part of Cambodia
Meet all farmers
Certificates of authenticity of Kampot pepper
Authentic Kampot Pepper must always be accompanied by four compulsory certificates that determine its quality, uniqueness, and origin. In addition, a 'Lot Number' must always be stated on the packaging. This number allows the pepper to be tracked right back to the specific farmer that produced it.

Trademark
Proves the origin and quality of Kampot pepper. There are many cheap copies all over the world, named for example pepper from Kampot, pepper Kampot or pepper from Cambodia, which, however, have nothing to do with the real Kampot pepper. So, if your pepper doesn't have all four certificates and a lot number, it's not the genuine Kampot pepper.

Protected Geographical Indication
Kampot Pepper became the first Cambodian product and the only pepper in the world to be given this status, similar to Champagne in France. It is a guarantee that your pepper has been grown in the most appropriate climatic conditions in the world, complying with the strictest standards of farming methods and techniques.

External control
The international regulator, Ecocert, is one of the largest certification companies in the world. It checks and certifies products containing natural materials resulting from organic farming. At the same time, it grants PGI status to Kampot Pepper.

Specification of a given protected geographical indication
A specific list of rules that a given country must meet within PGI, from planting the crops to tracking the peppercorns. In Cambodia, the emphasis is on strict organic compliance and a ban on all chemical fertilizers.